Colombian, Peruvian and Costa Rican Women in
Latin America Video, Photos & Media

In this section you will find all of our media related to the Colombian, Peruvian and Costa Rican women featured on our web site as well as exciting video and photos from our world famous singles tours to Peru, Colombia and Costa Rica.
Being Enticed Just Right By The Women Of Cartagena Colombia

| | |
| --- | --- |
| | Cartagena Women, so beautiful, so passionate. AFA Clients venture into the world of International Dating with the lovely women of Cartagena Colombia. Colombian Women will definatly entice you to be the next to make the leap into the world of International Dating! |
Miss Colombia - The Interview

| | |
| --- | --- |
| | John Adams and Ken Agee talk about how amazing the Miss Colombia tour and pageant is and why it is not to be missed. Miss Colombia is held every year in the beautiful city of Cartagena Colombia, and Ken Agee has not missed a Miss Colombia Pageant in the last 15 years! |
Miss Colombia - The Pageant

| | |
| --- | --- |
| | Miss Colombia Pageant, one of the most famous events in all the world, let alone seductive Cartagena Colombia and all its lovely, smiling women. For the bevy of stunning Colombian Women, dont miss out on the Miss Colombia Pageant. You can book it now! |
Miss Colombia Pageant Bikini Contest. WHEW! Its getting warm in here...

| | |
| --- | --- |
| | Our tour to Cartagena Colombia is an unforgettable experience that may very well change your life forever. The November tour is extra special due to the Miss Colombia Pagent. You will experience a week of parties and festivities, including the infamous Miss Colombia Bikini Contest, leading up to the actual pageant itself and the crowning of Miss Colombia. Only the most beautiful women from all of Colombia participate in this contest, an event you wont want to miss! |
WARNING!
Bikini Photo Shoot In Peru!

| | |
| --- | --- |
| | Peru women are gorgeous, and while shooting profile videos for our website, we wanted to show you a small preview of some of the women that you can meet on a Peru womens tour. |
Cartagena Bikini Day

| | |
| --- | --- |
| | Bikini clad beauties, beautiful beaches, and dancing, this is what comes to mind when one thinks of Cartagena Colombia. The women of Cartagena are true Latin beauties and a trip to meet Cartagena women will be a trip you will not soon forget! |
Miss Colombia Pageant and Tour Highlights

| | |
| --- | --- |
| | Watch a highlights video of night number 2 of the Miss Colombia pageant, a charity show at the Rio Hotel and Casino in beautiful Cartagena Colombia Women Country. Watch some of Colombias most beautiful women. |
A Hot Time in Barranquilla Colombia

| | |
| --- | --- |
| | Barranquilla women are some of Latin Americas most beautiful. Watch as these Barranquilla women enjoy a day at the pool, and entice you to make the leap into the international dating scene! |
The Most Beautiful Women In Peru

| | |
| --- | --- |
| | Peru Women are waiting to meet you; they are absolutely beautiful and looking to make you the happiest man on earth. Lima Peru is home to some amazing sightseeing that the women cant wait to show you around! |
Unforgettable Peru New Years Tour

| | |
| --- | --- |
| | You'll watch some great new video of this exciting tour while you listen to comments from a client who was on this tour. After watching this video and listening, you'll be hard pressed to figure out why YOU were not there! |
Miss Colombia 2010 Bikini Event

| | |
| --- | --- |
| | A Stunning Parade of Gorgeous Latin Women: The Miss Colombia pageant held every year in Cartagena, Colombia is not only one of the most renowned beauty pageants in South America - but in the entire world. Some of the festivals and pageant events draw up to 250,000 people! Each year, you have the opportunity to join our annual "Miss Colombia" tour to Cartagena and it's something you won't want to miss! This video, taken by our own video cameras, will make it very clear why. The 2010 Miss Colombia Bikini Competion. A seemingly endless parade of some of the most stunning women. |
Beautiful City, Beaches, and Beautiful Women

| | |
| --- | --- |
| | Recorded in Cartagena itself, AFA co-founder Ken Agee gives you a short preview of what to expect when you arrive in Cartagena, Colombia. Cartagena is one of the safest and most beautiful cities in all of South America. It's only fitting that you will find some of the most beautiful women in South America there as well. |
More Miss Colombia Tour Information

| | |
| --- | --- |
| | This video is an excerpt from one of our live shows. It's arrival day to kick off our Miss Colombia Cartegena Tour. AFA Co-Founder Ken Agee and Cartegena office manager Kayla join us in a live video feed from our office in Cartegena. All of the men just arrived and they are ALL already out on dates! |
Barranquilla, Colombia Singles Vacation Tour Highlights

| | |
| --- | --- |
| | AFA Co-Founder Ken Agee joins host John Adams in a recap of our July, 2010 singles vacation tour to Barranquilla, Colombia. Several clients who attended this tour join them with their comments including David and his fiancee, Marie Cristine, who became engaged on this tour. As always, we have lots of great highlight video for you to enjoy during the show. |
Video: Singles Vacation Adventure in Barranquilla Colombia

Watch Video (12:05)

May, 2010

Paradise in Barranquilla

Here is some highlight video of our recent singles tour to Barranquilla, Colombia. This tour video walks you through our Barranquilla singles vacation tour experience from arrival at the hotel, to the socials and fun at the beach. Even a surprise announcement from a past tour client at one of the socials whose wife to be just recieved her visa and is expecting....? If you want to also enjoy a discussion about this video you should also watch our archived LIVE show from May 6th, 2010 (CLICK HERE)!
Video: Singles Vacation Tour in Medellin Colombia

Watch Video (11:19)

May, 2010

The Medellin Singles Tour Experience is Clearly Special

There is something special about Medellin that clients love. And it's not just the stunningly, beautiful single women they meet in the hundreds. This video walks you through our April, 2010 singles vacation tour to this beautiful city. You'll also hear some comments from our office manager in Medellin, Vanessa. For more of this video - including comments from a client who participated in this very tour, be sure to also view our archived LIVE show from May 6th, 2010 (CLICK HERE) for some excellent insight of what YOU WILL EXPERIENCE!
Video: Peru New Years Eve Tour 2009 - 2010

Watch Video (10:04)

January, 2010

An Unbelievable Celebration with Stunning, Single Peruvian Women

No one celebrates New Years Eve like beautiful Peruvian women. Knowing this, we make it a tradition to schedule a New Years Eve tour to Lima annually. In this video you will see why. A group of great guys traveling to celebrate the new year in a fantastic country with hundreds of beautiful, single, Peruvian women and having the adventure of their lifetime. Hmmmm.... You were doing what while this video was taken?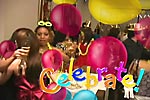 Watch Video
Recorded from Live Show: January 7th, 2010
Host John Adams does a review of the recently completed New Years Eve tours to Lima, Peru and the Philippines. Plus you here from several clients who attended the December, 2009 Ukraine tour. On the phone John will also have the office managers from Odessa, Ukriane and Davao, Phillipines as well as some of the clients who participated in these tours. You'll also be viewing some GREAT VIDEO fresh from these tours! We hate to say "we told you so", but we expect you are going to cringe when you see what you missed!
Video: Lima Peru October 2009 Singles Social

Watch Video (6:17)

November, 2009

A Client Dsecribes How He Was "Stunned"...

In Peru the women are very affectionate and attentive, for sure. And they love to dance and have fun. This is a highlight video from our October, 2009 tour that you won't want to miss. As you watch you will listen to one of our clients who attended this tour describes his experience.
Show #005: Latin Singles Tour Experience in Colombia, Peru and Costa Rica

Watch Video (1:15:43)

September 2009

Recorded from Live Show: September 17th, 2009

Host John Adams discusses the AFA Latin singles vacation experience for clients in the Latin American Countries of Colombia, Peru and Costa Rica. He visits with the AFA office managers from Cartagena, Medellin, Barranquilla, Lima and San Jose, Costa Rica giving you great insight into what your experience will be like during your exciting singles adventure.
AFA MEDIA CENTER MENU

Also view more than a decade of Archived Tour Photos HERE

Photos: Barranquilla, Colombia Singles Tour April 2010

View Slideshow 63 Imgs

July, 2010

First 2 Pictures Are Of A Previous Tour Client Announcing His Engagement With His Wife To Be - AND She's Expecting Their First Child!

Beautiful city. Beautiful women. EVERYWHERE! Browse the photos of our recent singles vacation tour to Barranquilla, Colombia.



If you do not see the embedded audio player(s), or the audio does not play correctly, you need to be sure that you have a current version of "
Flash Player
" installed. You can download and install this
HERE
for free. You may also download and play the audio file by clicking "Download Audio" or save it to your PC by RIGHT clicking "Download Audio" and choosing "Save Target As..." Files are in MP3 audio format.

No audio recordings have been added to this section yet.